VERA'S PLACE II

Welcome to my extended home on the web.
I hope you continue to enjoy all my creations and
I hope you continue to come back to see what is new.
I would like to Thank Tripod for giving me more
space to do what I love to do and that is create
for you.
Enjoy your travels through my pages and don't forget
to bookmark them.
Thank You for visiting.


Also, please let me know if you find dead links on my pages.
Make sure you tell me WHICH page and WHICH link it is.


I would like to add: If you know the Author of any of the poems
or stories where I have put Author Unknown, please send me the name
and I will add it.
Thank You.



NAMES ARE NOT IMPORTANT


MY NAME IS NOT IMPORTANT
IT'S MY HEART THAT REALLY COUNTS

IT'S THE FEELINGS DEEP INSIDE ME
AND THE LOVE I PASS AROUND.

IT'S THE REACHING OUT TO OTHERS
EVEN WHEN THEY DON'T REACH BACK

KNOWING THAT I LOVE THEM
EVEN WHEN THEY CAN'T LOVE BACK.

IT'S THE LETTING GO OF GRUDGES
AND REPAYING IT WITH LOVE

LIFTING UP THE ONES WHO HURT ME
TO MY GOD ABOVE.

LETTING HIM FIX ALL THE JUNK
LISTENING WITHIN MYSELF

KNOWING I AM NOT ALONE.
LISTENING TO THAT QUIET VOICE

WHICH TELLS ME NEVER DOUBT
AND THAT I HAVE A CHOICE

IN HOW MY LIFE TURNS OUT.
I CAN HURT IN ANGER AND DWELL ON THIS

OR SOMEHOW RISE ABOVE
REMEMBERING IT'S NOT UP TO ME

BUT UP TO GOD ABOVE.


~Author Unknown




Continue your journey here
and visit all these wonderful links



Welcome to Tripod
The Answering Machine
CoolSavings.com
The Dollar Stretcher
Library of Congress Home Page
@÷~Spring's Awakening~÷@
WET OATMEAL KISSES
Ask Jeeves
Mitakuye Oiyasin
OCEAN BLUE EYES
Think About It
Autumn's Place
MARY'S ONLINE LIFE
(Index - GranGran'sThis And That)
KOLA - Costner & Black Hills
Magic Abounds
Nichols B&B
* * * Dreaming At Our Tropical Waterfall * * *
RICHARDSWORLD
ON THIS DATE IN NORTH "AMERICAN INDIAN" HISTORY by PHIL KONSTANTIN
The Flame of Life
myheart
Sophos campaigns to save Christmas elves from cruelty
Battle of the Little Big Horn
BJP Website
The American Indian
Light A Candle For Peace In The New Millennium
Angel Doorway Bubble Magick
uplifted
flame
Welcome to Moose Run
Best Inspiration from the Net - What Kind of Day Shall I Have?
Monet's Bridge
New Page 1(My Friend Vicky's Page)
Native American Spirit
Women
Woman's Day Magazine
**FALLINSTAR'S Native American Indian Links**
eHarlequin.com - your online destination for all things romantic!
Living And Giving - Best Inspiration from the Net from Dobhran's Inspire
29 January 2002-Gandalf E-Post
"A Mystery Bookstore and More" - The Poisoned Pen
"TALLTEXIAN's"







Graphics for my pages came from these sites

Ann-S-Thesia: Welcome
Graphics By CandeeKis ~Web Design, Custom Web Design, PSP Tutorials, Fre
Web Elegance - Free & Custom Graphic Sets For Your Webpage
Free Graphics: 04 Animated Graphics
Free Graphics
Enchanted Backgrounds
(Index - GranGran'sGraphics Index)
AAA - Backgrounds - Free Backgrounds !!
AmboGraphics
Angel's Web Graphics
Boogie Jack's Free Graphics & HTML Tutorials
Background Heaven
Free graphics by Art for the web


Email: vhl115@aol.com

Sign My Guestbook

View My Guestbook

I received this award on August 8, 1999 from Betty's Haven. Thank You so much for it. Please visit her site.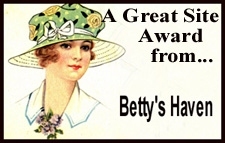 Betty's Haven

Back to my 1st Home Page--Vera's Place

Vera's Place

This page was created in March 1999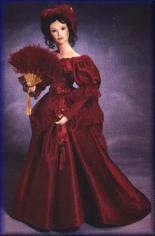 Thank You for visiting this page