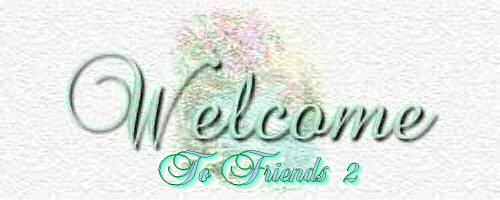 Welcome to my Friends 2 page. I hope you enjoy
exploring all the links and don't forget to bookmark this page. Thank You
for visiting my page.


Also, please let me know if you find dead links on my pages.
Make sure you tell me WHICH page and WHICH link it is.


I would like to add: If you know the Author of any of the poems
or stories where I have put Author Unknown, please send me the name
and I will add it.
Thank You.


Love is


being happy for the other person
when they are happy

being sad for the person
when they are sad

being together in good times
and being together in bad times

Love is the source of strength

Love is

being honest with yourself at all times
being honest with the other person at all times

telling, listening, respecting the truth
and never pretending

Love is the source of reality

Love is

an understanding so complete that
you feel as if you are a part
of the other person

accepting the other person
just the way they are

and not trying to change them
to be something else

Love is the source of unity

Love is

the freedom to pursue your own desires
while sharing your experiences
with the other person

the growth of one individual alongside of
and together with the growth
of another individual

Love is the source of success

Love is

the excitement of planning things together
the excitement of doing things together

Love is the source of the future

Love is

the fury of the storm
the calm in the rainbow

Love is the source of passion

Love is

giving and taking in a daily situation
being patient with each other's
needs and desires

Love is the source of sharing

Love is

knowing that the other person
will always be with you
regardless of what happens

missing the other person when they are away
but remaining near in heart at all times

Love is the source of security

Love is the source of life


Poem by Susan Polis Schutz



Continue your journey here
and visit all these wonderful links

My On-Line Friend
You are my Friend! Forward it on to all you friends, too!
MY SPECIAL FRIENDS
Friends are Wonderific!
Hey You, It's me...
Hello! Have A Great day!
~*~With A Little Help From My Friends~*~
PurpleDale
My Internet friend! May our friendship never end! Pass it on!
A Friend Has...
Expressions By Vee /Secret Of Friendship/web design
Friendship
Online Friends
Friendship greeting~pass it on!
Touch Someone
Friendship1 - Sunrise to Sunset
You are very special... Forward this Around the world/including me if I
cat
Friendship
A Friend...
Friends
I Miss You Lots When We Are Not Together
fl
True Friends
A Friend Is A Treasure! The Official ICQ Friendship Treasure Chain! Pass
My Wish For You
Friends Forever More
You My Friend Are One Of God's Greatests Gifts...


Email: vhl115@aol.com


Sign My Guestbook

View My Guestbook
Back to Friends Page

Friends

This page was created in April 1999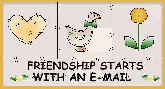 Thank You for visiting this page